Update:
Today is
April 4, Topless Jihad Day
for sisters to bare their breasts for Liberty. Jump into action at an Embassy of Tunisia of their choice to support women in Islam fighting for freedom and autonomy. Don't be a damned dhimmi, be a woman of courage!
Femen
activists have declared 4 April "Topless Jihad Day" in support of a Tunisian woman who was threatened with death by stoning for baring her breasts online. Amina Tyler ignited a storm when she posted images of herself with the words "Fuck your morals" across her chest to the
Femen-Tunisia Facebook page
.
Another image showing her smoking a cigarette with: "My body belongs to me, and is not the source of anyone's honour", written in Arabic script across her bare chest, was also posted. As an imam called for her death, Femen responded with fury, calling "Topless Jihad Day". In a statement posted on Facebook, the group calls for solidarity against the "lethal hatred of Islamists – inhuman beasts for whom killing a woman is more natural than recognising her right to do as she pleases with her own body". They hope some of the ideals of the Arab Spring may yet be saved.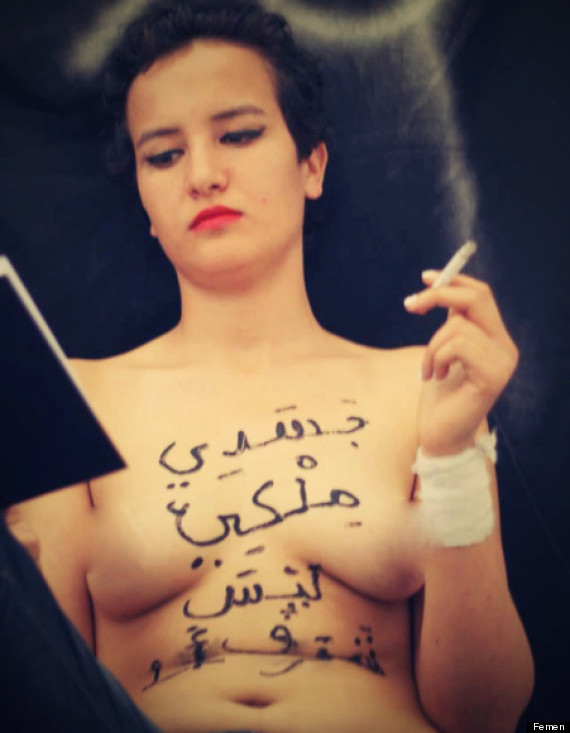 Said dhimmi idiots can make up for their grievous sin of supporting Islamofascism by joining their sisters on April 4, International Topless Jihad Day, and jump into action at an Embassy of Tunisia of their choice.
Prove the world that Arab Spring was indeed about liberty, not a lunacy to help the Muslim Brotherhood to power!
Stand up for freedom and bare your breasts against premodernism.